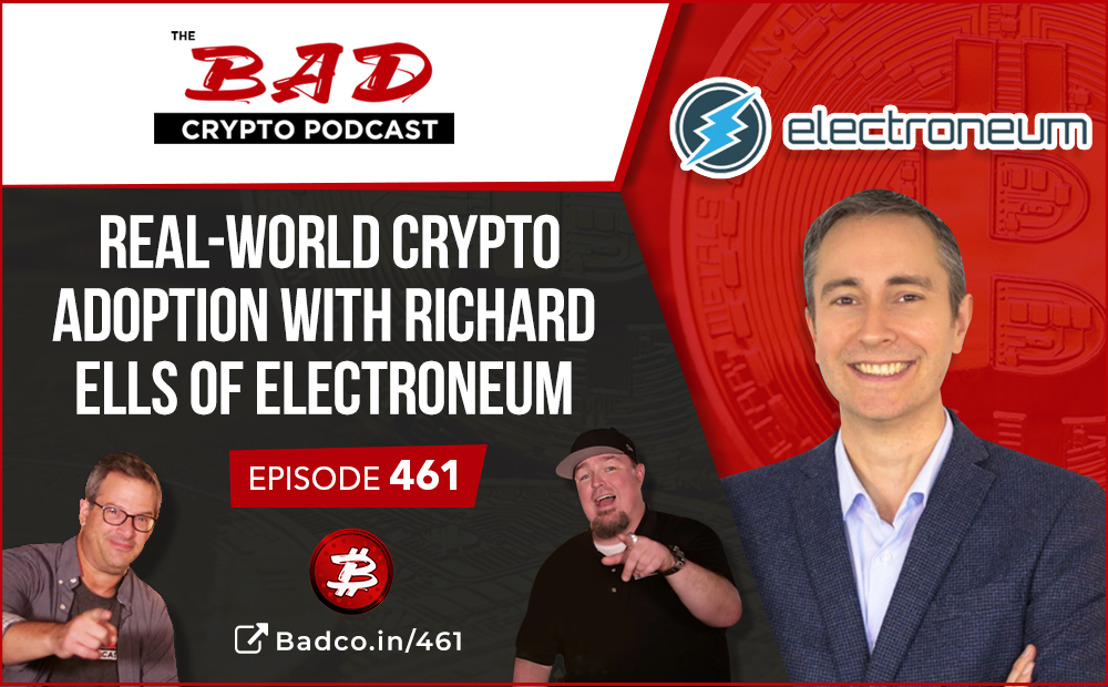 Bad Crypto Podcast hosts praise Electroneum during an audio interview with Richard Ells
The hosts of one of the world's top crypto podcasts in the world said it is rare to find an ICO like Electroneum that three years later is still doing very well
In an opening statement before introducing CEO Richard Ells, Bad Crypto Podcast host Joel Comm said "so many altcoins promise to deliver real-world applications but never do."!
"That's not true when it comes to a cryptocurrency that did its ICO in 2017 and today has demonstrated that they meant what they said," Joel added in a comment in the show and on the Bad Crypto Podcast website.
"We're pleased to welcome Richard Ells, CEO, and Founder of Electroneum, to the show to discuss their humble beginnings and the growth they are experiencing by generating real-world adoption of crypto," the BCP hosts added.
The Interviews hottest topics
"It's incredibly rare to find a crypto project that did an ICO three years ago and yet is prospering, and building and has a massive following such as Electroneum does," said BCP host Joel Comm, who for three years has, along with Travis Wright, demystified blockchain and crypto for the wider audiences.
"Both Travis and I got to participate very early on in the ICO and today we are pleased to announce that we are advisors for Electroneum so we do have a dog in this hunt and we also have the CEO in the room with us," said Joel.
During the interview, Richard narrated his background prior to Electroneum and how the idea for a mobile-based cryptocurrency emerged. Richard Ells also covered the original white paper briefly.
Check out the entire interview here.
FEATURED GUEST
Richard Ells balances over 28 years of from-the-ground-up experience with a continuing drive for innovation within the spheres of internet technologies and software. He's hands-on with all of his projects (quite literally, with sleeves rolled up and fingers tapping away on turbo!), he's a coder at heart with years of experience as an entrepreneurial marketeer.
His previous ventures include a digital agency, still running smoothly after 20 years, and a social media management platform, also still growing and servicing corporate brands in over 15 languages.
His latest venture is the runaway success cryptocurrency known as Electroneum. Electroneum is a cryptocurrency which raised $40m US in its ICO and is based around mobile ubiquity.
The main goal of Electroneum is to bring simplicity and ease of access to cryptocurrency, allowing mass adoption and the empowerment of a huge new audience of mobile users in the developing world, who, until now, have mostly been unable to use a digital payment method. Corporate interest in this vast new market has been huge and has lead to signing agreements with large enterprises, who are taking their first tentative steps into the commercialization of cryptocurrency.
Electroneum has gained widespread adoption providing a mobile-first payment solution to the world's unbanked, attracting more than 4M users worldwide in less than three years. It is one of the most usable cryptocurrencies as it has enabled users to top-up their phones in 140 + countries, electricity in four countries.
They have since launched a new freelance marketplace, AnyTask.com, which is providing thousands of freelancers the opportunity to sell their services to buyers globally, without the need of a bank account.