CRYPTO DAILY|Crypto Wars And Asteroid Mining: CEO Of Electroneum, Richard Ells, Speaks His Mind
1 October 2019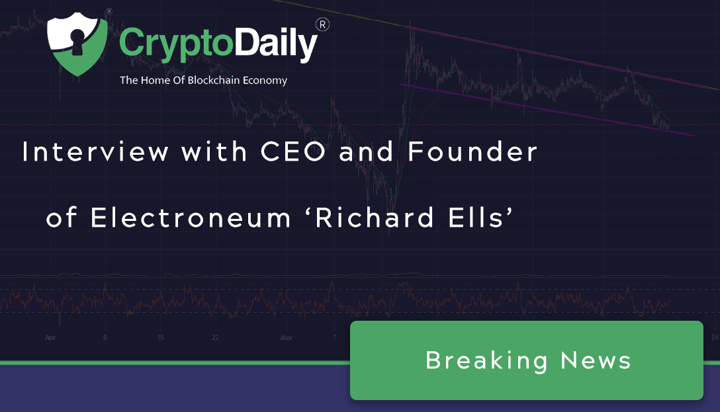 By Marcus Henry / Published by Crypto Daily
I recently sat down to speak with Founder and CEO of Electroneum (ETN), Richard Ells.
Electroneum is a cryptocurrency that was founded nearly two years ago and has come out swinging following the crypto winter following Bitcoins retrace from it's 2017 all-time highs.
In the years since, Richard and his team at Electroneum have not wasted any time at all; building and improving upon their blockchain, moving to a mining model that makes them the greenest cryptocurrency out there, and helping with their primary mission of banking the unbanked and bringing people out of poverty. 
Richard goes into the various phases of Electroneum's agenda, to which they are still in phase one.
I learn about Electroneum's mission to gain mass adoption in the unbanked world via the creation of a two-sided marketplace in a Fiverr-like fashion, their "Proof Of Responsibility" model of work, partnerships with cellular companies in Brazil, businesses in Uganda accepting ETN, and so much more in this dynamic chat.
I also find out Richard's take on other cryptocurrencies including bitcoin, his views on regulation, and how future asteroid mining could impact the cryptocurrency space. Come check out the interview below!
---
Marcus Henry is an American Journalist with over 11 years working in the tech industry. He has been actively involved in the crypto community for the past three years and currently works out of Austin, Texas. He covers breaking news, writes perspective pieces and reflections, and conducts interviews with industry professionals and community members. Follow Marcus Henry on Twitter- @MarcusHenryHODL
Disclaimer: The information above does not constitute investment, financial, trading or any other sort of advice and you should not treat any of my content as such. I do not recommend the purchase, sale, or holding of any cryptocurrency or other product and nothing I write about should be deemed as an offer to purchase, sell, or hold a cryptocurrency or other product or service. Please do your own research and consult a certified financial professional before making any investment decision.