IBTIMES|Electroneum CEO Explains Why Cryptocurrency Use Is Growing Despite Being Criticized By Naysayers
15 September 2020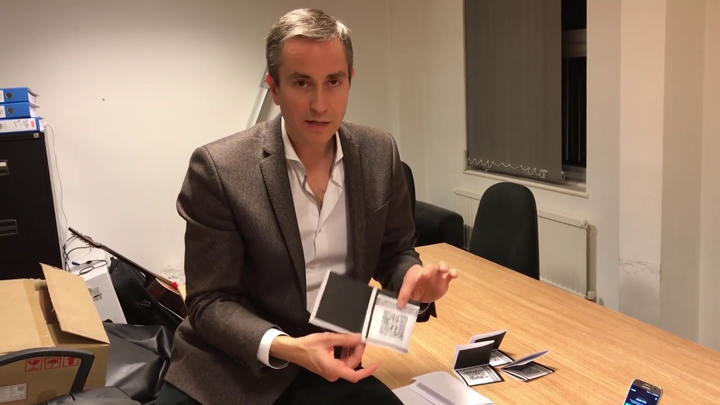 By IBTimes Staff Reporter / Published by IBT
Despite all the benefits that cryptocurrencies bring to the world we live in today, the industry itself faces many challenges and barriers. Mainstream media, the corporate world, and governments routinely portray cryptocurrencies as a tool for drug traffickers, fraudsters, and terrorists.
If you look at the most recent crypto articles on top mainstream outlets, you'll find that the vast majority set a negative tone toward cryptocurrency.
Electroneum CEO Richard Ells has an opposite take on cryptocurrencies and their power to help people in many different ways. His award-winning crypto ETN is used by millions of people around the world. Hundreds of thousands of them use ETN for mobile airtime and data top-ups, others for peer-to-peer transfers. 
Thousands more earn ETN on AnyTask.com, a global freelance platform powered by Electroneum. And a further 2,000 business owners worldwide accept ETN as payment for their products and services.
IBTimes editorial staff caught up with Ells to learn more about Electroneum, a smartphone-based cryptocurrency that boasts one of the most revolutionary instant payment systems in the cryptosphere, and the challenges the crypto space faces as a whole.
IBTimes: Hi Richard, before we dive into the broader topic on cryptocurrency, can you briefly gives a bit of background on yourself and how Electroneum came about?
RE: I've run IT companies for nearly 30 years. I've got a digital agency that I set up in 1996, SiteWizard, which is still going strong. SiteWizard received the National Business Awards Bright Business prize for software in 2004.
By 2011, the business had more than 3,000 clients and had become one of the UK's most recommended website design firms. I also run Retortal, a social media management firm, with my business partner Adrian Reeves, which we set up in 2013. That's still going strong as well. 
I got involved with crypto many years ago. I began mining Ether in my garage around 2014 . I saw the true potential of crypto to help millions of people, and with the tech team I already had, and due to the pervasiveness of smartphones worldwide, we concluded there was a niche for a mobile-based crypto. We also wanted to get crypto into the hands of as many people as possible, particularly the unbanked. So, we officially launched in November 2017. We decided to airdrop millions of ETN tokens to people as a sample for them to get familiarised with crypto and ETN in particular.
After 30 months, we finalized the successful airdrop. It was very successful because we have 4 million registered users, 2.7 million app downloads. And unlike the majority of other cryptocurrencies, Electroneum brings real solutions.
Electroneum has the only app with an instant payment system that enables people to send, receive, and transfer ETN at a fraction of a US cent. So, currently, our users have so far completed over 300,000 peer-to-peer ETN transfers and have topped up their mobile airtime and data on more than 200,000 occasions. The ETN ecosystem is already a reality and we are well on our way to enable our users to earn ETN and use it anywhere for whatever they need. ETN will be better than money.
IBT: Before we continue, can I ask you why anybody would use AnyTask over other leading platforms like Fiverr, Upwork, Peopleperhour, and freelancer.com?
RE: Firstly, we have thousands of freelancers that have been in the industry since before AnyTask. So, many of our freelancers come from other leading platforms, and in many cases, they still have work on those websites. 
However, they prefer to freelance on AnyTask because they do not pay the 20% fees they pay on other platforms, such as Fiverr or Freelancer.com. They also love the fact that they get paid within minutes after their client approves their task. They have to wait at least two weeks on other platforms. AnyTask was launched in late 2019, but it already has about 500,000 registered users who can purchase from a selection of nearly 10,000 tasks across dozens of categories. For buyers, there are benefits of using AnyTask as well. They only pay 6% fees. And shortly, people will be able to pay only a 1% fee if they purchase tasks with ETN. Unlike all other leading platforms, we introduced a grace period in solidarity with businesses and entrepreneurs by temporarily removing fees.
IBT: The use of cryptocurrency is increasing very quickly. More people are getting involved each day. However, the crypto space faces massive challenges and is viewed quite negatively. How has that affected your crypto startup?
RE: There is a considerable lack of knowledge surrounding cryptocurrency and its underlying technology, blockchain. But there's also concern from the traditional financial institutions and governments, who fear losing control over the monetary system.
For many years and up until recently, authorities and corporates plastered the global media saying Bitcoin and other cryptocurrencies were primarily used for illegal activities, such as financing terrorism, money laundering, and the dark web.
However, recent reports on Bloomberg and Forbes estimate that only 0.5% of all Bitcoin transactions in 2019 took place on the dark web. A recent survey on Bitcoinist revealed that the public's perception is also changing quickly. Currently, 40% of people p4.5 olled said they believe crypto is used to purchase stocks, and 30% more thought it is used for electronics, gold, clothing, real estate, and food. Sure, 30% still believe it is used to purchase illegal items. 
That contrasts massively with a survey also by Bitcoinist but of crypto users. And 38% said they use crypto to purchase food, 34% also buy clothes, 29%, stocks, 21%, gold, while 15% and 11% respectively, said they use it for weapons and drugs.
A Europol in-depth report found that the total amount of money laundered through Bitcoin was an average of $456 million per year between 2009 to 2018. Let's not forget that of all users in cryptocurrency, 70% have Bitcoin. The Mexican drug cartels alone launder about $9 billion a year in dollars, not crypto. According to the United Nations, in 2009, the total spend in fiat currencies on illicit financial activities, including money laundering, was $1.6 trillion. I could go on with more stats and numbers, but these alone show that concerns over crypto being used for illegal activities are unfounded.
The crypto market is still in its infancy. It is still unregulated, it's still in a wild west era, its highly volatile, and that poses issues for many because yes, many cryptocurrencies resort to unethical practices instead of real development to pump their price. 
IBT: You speak of a wild West, an industry that is so unregulated that it still poses particular risks for people getting involved. What's your stance on regulation?
RE: In 2018, we became the first crypto to adopt KYC/AML procedures. For many crypto purists, particularly Bitcoin maximalists, that goes against the crypto ethos. But if we look at what we want to achieve with Electroneum, a full ecosystem whereby people can live off of ETN and use ETN for everything they need, regulation is imperative. So, we have filed for our UK Financial Conduct Authority registration. We prepared for and adopted KYC/AML procedures ahead of the rules that we knew were eventually coming, including the EU's Fifth Directive, to regulate the crypto industry.
Some experts are adamant that regulation will bring mass adoption. It will help build trust with the masses and facilitate education and create a domino effect that will pave the way for developing international regulatory frameworks.
We know this is because we are in conversations with governments around the world and with multinationals, corporations, and potential institutional partners. And they all feel nervous about dealing with cryptocurrencies that are not implementing any regulatory procedures. Of course, they are concerned over volatility as well, which is also the result of an unregulated market. The larger crypto and blockchain community agree that regulations could lead to a more stable market.
IBT: You speak of volatility and how regulation can help control it, but would that help change the perception of so many people who believe cryptocurrencies have no intrinsic value? 
RE: It is quite disturbing to hear traditional and institutional financial experts saying that Bitcoin has no value and that the market is purely speculative and will collapse. The best example is Warren Buffet, who went as far as saying they don't produce anything. I could ask him to explain what value fiat currencies have. They are no longer backed by gold. Central Banks print bills and mint coins indiscriminately, and they expect us to have faith that each one of those pieces of paper is worth their demonym.
The fact is that fiat currencies have collapsed. It is happening in Venezuela. It is happening again in Argentina, Iran, Turkey. We see their fiat currencies collapsing, and that is why in countries like those, cryptocurrency ownership is increasing exponentially. Try telling people in Venezuela that Bitcoin has no value and that their bolivar is to be trusted. Economists say currencies have value if there is a demand for them, if they are fungible or interchangeable for other currencies, if they are usable and if they are a store of value. Electroneum has all those characteristics. We have millions of users, many of whom are holding on to their ETN for their future. 
We have many freelancers on AnyTask who we have interviewed, and they all tell us they are saving ETN. Some hold their ETN, and when they've saved enough, they purchase items they need to expand their businesses. We have one freelancer in Croatia who has just bought a 3D printer with the ETN he's earned on AnyTask to add 3D modeling to his offerings. Others use ETN for mobile airtime and electricity top-ups. In Uganda and South Africa, people are using ETN at dozens of shops and for taxi rides. Others are swapping ETN for Bitcoin or Ethereum. A few are exchanging it for fiat currency to pay their rent or their children's tuition.
While cryptocurrency faces many challenges and fights hard to overcome the many hurdles laid in its way to mass adoption, it is clear that virtual currencies are here to stay.
And the proof lies in the facts. The facts are governments from around the world have gone from banning cryptocurrency to contemplating their very own central bank digital currencies. The best reference to that is China, where four of their largest banks have begun testing crypto wallets. 
In fact, a China state-owned news outlet reported that in Suzhou, some government officials have already been partially paid in digital currency. Other major financial institutions have also gradually and increasingly begun to get involved in the cryptocurrency industry, by either including crypto investments in their portfolios to getting involved in custodial services for digital assets. JP Morgan, NYSE, Fidelity, Facebook, and others are already involved in crypto projects.
With millions of users and thousands already earning ETN, Electroneum has poised itself at the gateway of adoption. With more use cases in the pipelines through partnerships and agreements with larger corporations, Electroneum is sure they will become a top 10 cryptocurrency in terms of use in the next few years. And given that most crypto experts agree that Electroneum is hugely overlooked, the question you should be asking is whether now is the right time to get involved in ETN.