CRYPTO DAILY|Electroneum Knighted Seventh Executive Member Of Esteemed CryptoUK Board
19 November 2020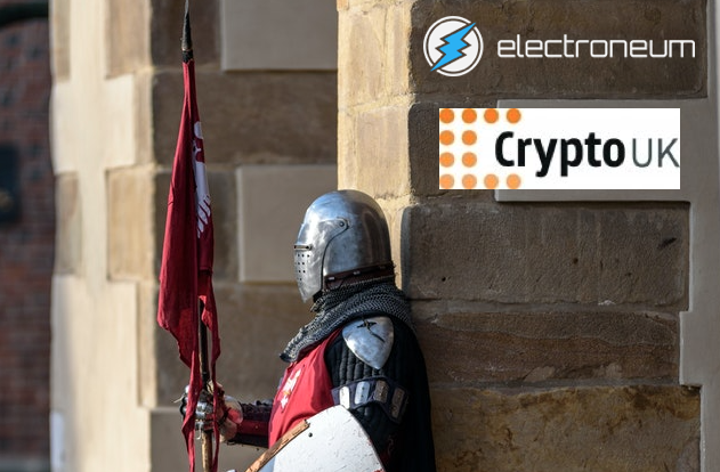 By Marcus Henry / Published by Crypto Daily
What determines our place in society? This varies greatly when traversing across global social circles. For some, it is education, professional skills, or wealth. In others, it is predetermined simply by the family in which you were born. And for others, it is unfortunate to say that gender will dictate your place in society. Here's to a realignment across social verticals for better opportunities to elevate more deserving people into a better place.
Looking at the ever-crowded cryptocurrency landscape, still riddled with scams and scandals, there is a growing need to establish trust amongst the greater community. After all, any serious project has too much at stake to risk any bad press in what is essentially a daily make or break situation.
The competition remains steep, and new and disruptive projects come online by the day that try to one-up existing projects by promising cheaper, faster, and larger scale with bigger and better returns for investors. As projects come of age and demonstrate their use cases effectively while growing their global infrastructure and gaining users organically along the way, various benchmarks are set within the industry to both recognize and ensure continued quality and service by these organizations.

CryptoUK is the U.K.'s trade association representing the digital asset sector. Launched in early 2018, members come from leading companies that span across the blockchain industry. A core belief of theirs is that crypto and digital assets can revolutionize the way that British consumers engage in financial transactions in a way that targets to benefit consumers and businesses, with security being paramount to the overall agenda.
Its members are currently focused on responding to the U.K. Cryptoasset Task Force's consultation on stablecoins, which is anticipated later this year and advocates for the transparency of crypto taxation measures. 
CryptoUK works to help educate policymakers and regulators as they are tasked with making key decisions around the crypto and digital asset industry. They work with these decision-makers to help develop a fair regulatory framework for the UK. Their members believe that a partnership with policymakers and amongst each other can help to ensure that the U.K. is empowered to take full advantage of the potential to be a global leader in this exciting new blockchain industry. After all, failing to enable and partake in the industry could hold some negative implications for the UK.
Members of the esteemed Executive Committee include Binance, Coinbase, CryptoCompare, eToro, Ripple, and Simmons & Simmons. Most recently, CryptoUK made the announcement of its seventh member to the Executive Committee; Electroneum. 
Electroneum, a three-year-old award-winning crypto start-up, recently made the public announcement of its welcoming into the Executive Membership of CryptoUK. This highly influential group of leading industry experts and stakeholders collaborate with a focus to lead the association's strategic direction with collaboration with policymakers. Areas of influence include CryptoUK's code of conduct, policy stance, and governance to ensure the U.K. lives up to its global leadership potential during this critical time for this quickly developing and expanding industry.
Richard Ells, CEO of Electroneum, is staying very busy these days as his company has celebrated many successes in 2020 that have brought the team closer to their goal of giving the globally unbanked peoples (think of 3rd world people without access to banking) new opportunities to lift themselves out of poverty via cryptocurrency.
"Electroneum has built the crypto industry's most unique ecosystem that, for the first time, enables people banked and unbanked to earn ETN via their global freelance platform AnyTask.com, and by accepting it as payment for products and services. Electroneum is one of the fastest-growing crypto service providers with nearly 4.1 million users, and our AnyTask platform has over 555,000 registered users and more than 20,000 tasks listed across dozens of categories and subcategories."
 Richard recently commented on the new development with CryptoUK, and Electroneum's focus within the committee:
"One of our key regulatory concerns is micropayments. We have hundreds of thousands of people actively using our app for payments and transactions of very low face value," said Ells. "We want to ensure that regulations do not stifle financial inclusion efforts such as ours."
Electroneum has also made a commitment to withhold CryptoUK's principles and self-regulatory Code of Conduct. As a member of the association's Executive Committee, Electroneum will help in leading the proactive updating of its Code of Conduct, ensuring it remains a living document that continues to fit the purpose of delivering best practices amongst members.
Ian Taylor, Chairman of the non-profit CryptoUK made comment on the organization, and its decision to bring Electroneum into its Executive Committee:
"CryptoUK is the U.K's digital asset trade association. Since our launch in 2018 CryptoUK has built meaningful relationships with industry participants, regulators and policymakers… Our aim is to work in partnership with these actors to help develop a balanced regulatory framework which protects businesses and customers and fosters innovation. Electroneum brings further expertise to our Executive Board which will be instrumental in these efforts."
Electroneum is a mobile-phone-based crypto app powered by a revolutionary instant payment system that enables its nearly 4.1 million registered users to send, receive, and transfer funds within minutes at a fraction of a U.S. cent. It is one of the only crypto apps that allows users to top up their airtime and data in 140+ countries and electricity top-ups in four African nations.
Their users have completed millions of blockchain transactions, including over 303,000 app-to-app transfers and more than 214,000 airtime and data top-ups, making ETN one of the most widely used cryptos. Electroneum is the only crypto that has made earning its token possible. AnyTask is Electroneum's freelance platform, with hundreds of thousands of registered users and tens of thousands of tasks across dozens of categories. Electroneum and AnyTask do not require users to have a bank or PayPal account, empowering millions of people to instantly access the global digital economy.
As cryptocurrency continues to find its place in society, it is also challenging the very pillars upon which our society has been founded upon. In doing so, it offers to rebalance the playing field by offering new opportunities for people from all walks of life and is enabling fairness and transparency in the process.
As the regulatory policy is written for cryptocurrency, it is critical that policymakers are informed on this new digital asset class as they work on legislation that can impact its success, and the UK's ability to partake in new economic opportunities it offers. With Electroneum now seated at the table of CryptoUK's Executive Committee, it can now stand to advocate for its vision of helping the unbanked and can help inform and influence policymakers to do the right thing for Britain, its crypto industry, and those unbanked individuals that stand to benefit from the upcoming crypto revolution.
---
Marcus Henry is an American Journalist with over 12 years of working in the tech industry. He has been actively involved in the crypto community for the past three years and currently works out of Austin, Texas. He covers breaking news, writes perspective pieces and reflections, and conducts interviews with industry professionals and community members. Follow Marcus Henry on Twitter- @MarcusHenryHODL
---
Disclaimer: The information above does not constitute investment, financial, trading or any other sort of advice and you should not treat any of my content as such. I do not recommend the purchase, sale, or holding of any cryptocurrency or other product and/or service. Nothing I write about should be deemed as an offer to purchase, sell, or hold a cryptocurrency or other product or service. Please do your own research and consult a certified financial professional before making any investment decision.
---
© 2020 CryptoDaily All Rights Reserved. This article is provided for informational purposes only. It is not offered or intended to be used as legal, tax, investment, financial, or other advice.