FINANCIAL TIMES|An update on Harry Redknapp's favourite cryptocurrency, Electroneum
You may not have realised, but the past seven days have been very special for Electroneum, the cryptocurrency favoured by football manager Harry Redknapp
17 October 2017
By Kadhim Shubber / Published by FT.COM
They have been so very special that founder Richard Ells dubbed the period "Most Exciting Electroneum Week!" in an email to "contributors":
It's been less than a week since I last emailed, but WHAT a week!We've gone from 60,000 contributors a week ago to a whopping 130,000+ and we are getting an additional 1000 per hour as I type!Electroneum has really struck a chord with the public and the excitement is overwhelming!
According to the message, Electroneum's burgeoning popularity was helped by Redknapp's tweet last week, and the news reports that followed it. Our take did not make the cut, believe it or not.
Now, Ells takes a moment to stress: "we did not pay him to do that, but we VERY much appreciate him doing it (thanks Harry!)!" Yes, nice one Harry!
But his general message is clear. This is a wildly speculative venture led by a guy who has little experience with cryptocurrencies, but it's also a team, and what's a little risk between teammates, right?
None of this could have happened without all of YOU! You are AMAZING. We are at the cutting edge of technology and you're involved in the most exciting thing I've ever seen in my life! Please limber up, have a stretch and give yourselves a giant pat on the back for giving the Electroneum team the opportunity to really make a go of creating the first cryptocurrency "of the people".
The email ends with a "PS", which includes the warning that "buying into a cryptocurrency is not a guarantee of returns".
Seven days ago, Electroneum's website listed 37,201 registered users along with a raise of approximately 12,880 ethereum and 957 bitcoin. Today, the website counts 205,554 users and a raise of approximately 28,570 ethereum and 2,932 bitcoin.
If that's accurate, then Ells and his team have hoovered up £12m worth of cryptocurrencies in a week and almost £20m in total.
The fundraising has been driven by an aggressive marketing program that makes little effort to remind people they might lose their shirt.
People get bonuses for referring their friends: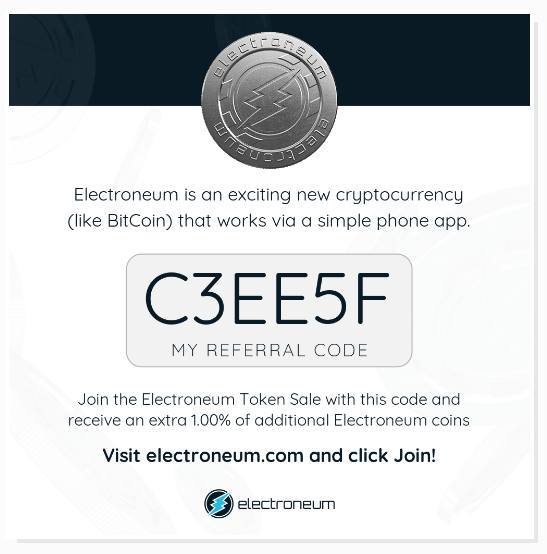 The Electroneum Twitter account is happily pumping the sale without ever having once mentioned the word "risk", as in "your capital is at risk":

And the Facebook page is no better. Here's a sampling of posts: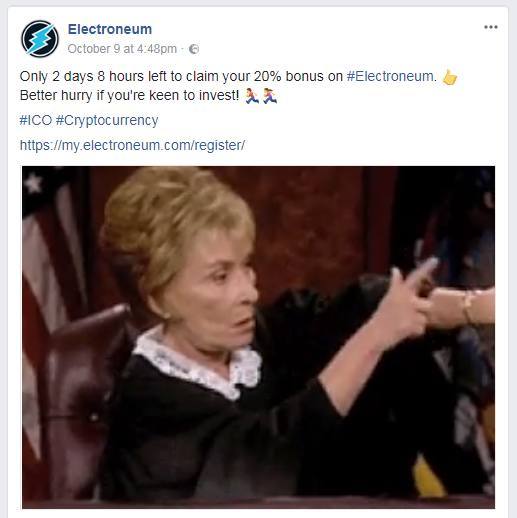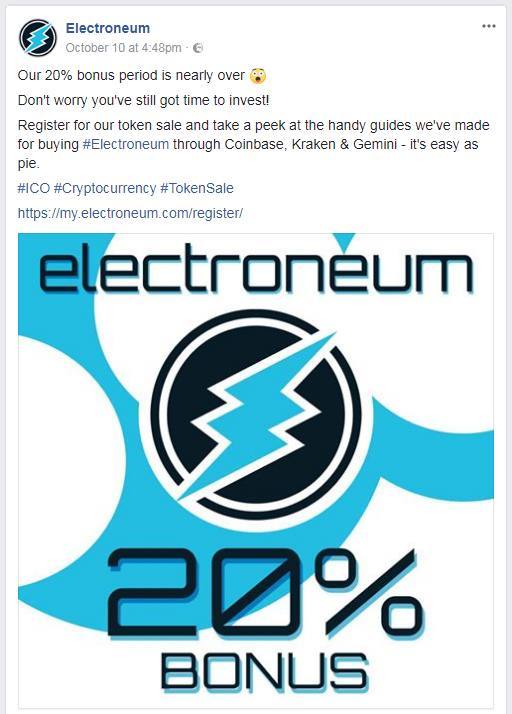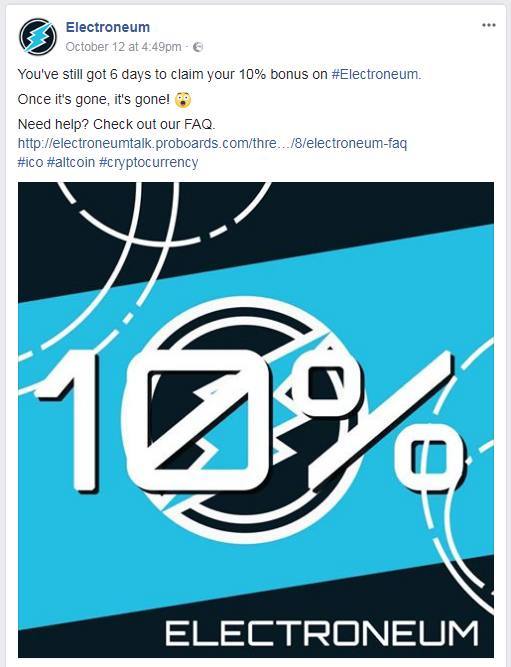 Ells even seems to be doing billboard advertising. This is a picture from the Electroneum Facebook page: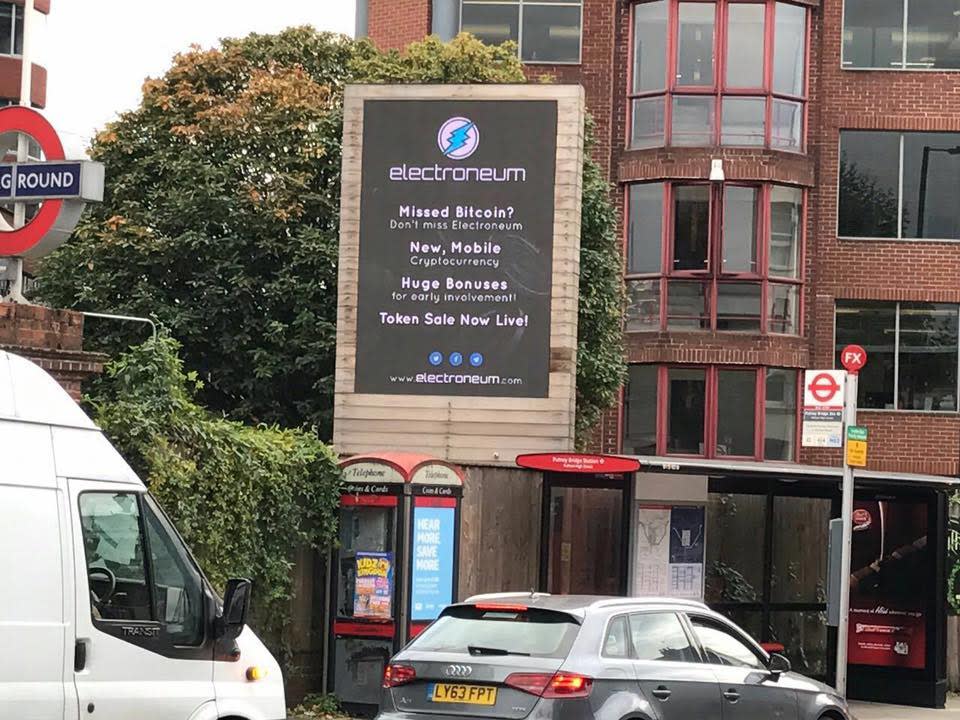 "Missed Bitcoin? Don't miss Electroneum"
"Huge Bonuses for early involvement!"
"Token Sale Now Live!"
Who knows, all of this might get so exciting that even the FCA starts to pay attention…