FORBES|Beginner's Guide: 2 Ways To Mine Electroneum On Windows
Since resuming my role here at Forbes, I've been sucked back in to the exciting and often mysterious world of cryptocurrency mining. It requires a generous amount of research and patience, but it can be immensely rewarding. Thanks to major players like Bitcoin and an influx of blockchain-based applications and games, we're on the cusp of mainstream awareness. This has led to me receiving more and more questions on social media about getting started in the world of mining. So, I'm going to turn my research and experience into guides for you! We've dabbled in stuff like profiting from Nicehash, but it's time to get serious and discuss mining actual coins. Let's kick it off with Electroneum
4 May 2018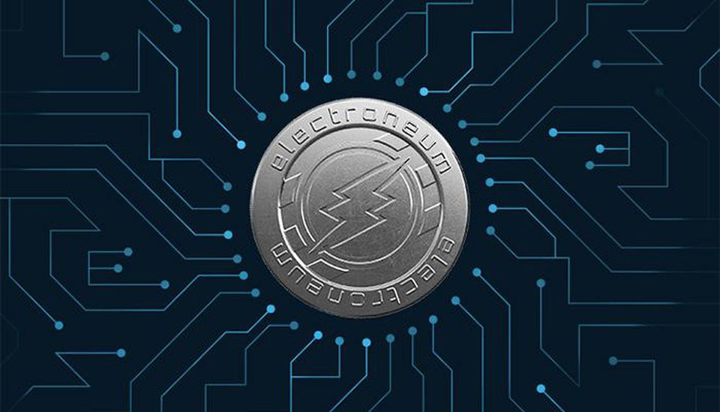 By Jason Evangelho / Published by Forbes
Introduction To Electroneum
I expect you'll start hearing a lot more about Electroneum. Electroneum Ltd, the company behind this relatively new coin, is on a mission to achieve mass adoption and simplify the more opaque aspects of cryptocurrency in general. Specifically, they're targeting developing countries and signing contracts with major telecommunications companies in an effort to make Electroneum available to all consumers and mobile phone users on a global scale. And to make it more approachable.
What stands out most to me is that Electroneum was the first ever cryptocurrency to join the GSMA as a member. The GSMA represents the interests of more than 800 mobile operators worldwide, so I consider that a bold first step in achieving their lofty goals. And according to the company's press release this morning, Electroneum Ltd "has signed agreements with mobile telecom providers giving Electroneum access to over 100m users."
You can read more of their accomplishments here.
Many algorithms comprise the cryptocurrency mining world, and Electroneum is based on Cryptonight. Cryptonight is an algorithm optimized for CPUs (though it's possible to mine on GPUs too, especially Radeon Vega), which makes the next bit of information kind of a big deal.
Today marks the release of the Electroneum mining app for Android; potentially a massive step toward worldwide adoption and increased mindshare. The company intends for this to be their gateway to introducing potentially billions of people to not only Electroneum, but cryptocurrency in general. It allegedly uses very little data and requires absolutely zero technical knowledge. Let's be honest, that's one of the biggest barriers to cryptocurrency exploding. While mining on a smartphone represents a trivial amount of profit, remember that roughly 1 billion people around the world live on less than $2 USD per day. The ability to mine a coin easily on a device even 70% of people in developing countries own -- especially if it continues to swing upward in value -- could be huge. What if they can turn around and pay their carrier with it? That's precisely what Electroneum is trying to accomplish.
At any rate, I'm enthusiastic about Electroneum and I've been diverting my mining rigs from Nicehash or Ethereum to this one because I believe it will explode in popularity by the end of 2018. Just remember that at its core, mining is a bit like gambling or playing the lottery. Do your own research and decide for yourself, but never hesitate to mine a coin you personally believe in for your own reasons.
Phew! Alright, a bit of a ramble but I wanted to establish a bit of a foundation before you start your mining adventure with Electroneum. Let's get going!
Before We Begin: Create Your Electroneum Wallet

Creating your Electroneum Wallet ELECTRONEUM LTD.
There's no point mining a coin if you have nowhere to store it! First you'll want to visit my.electroneum.com and create either a paper wallet or an online wallet. While a paper wallet is more secure, it's also a bit more complicated for beginners in the crypto world to manage. Your online Electroneum wallet will also require two-factor authentication, a PIN and Captcha verification each time you log in to manage it, so there are added layers of security.
Your online wallet will also sync with the Electroneum Android mining app (the iOS app is currently pending Apple approval).
Setting up your Electroneum account ELECTRONEUM LTD.
Step 1: Go to my.electroneum.com and sign in via Facebook, or create a new account.
Step 2: Verify your email, setup 2FA (two-factor authentication) and create a PIN to use when you log in.
Step 3: That's pretty much it! Go to the "Manage wallet" tab. This is where you'll see your list of transactions and be able to send or receive Electroneum.
Take note of your unique Electroneum address which is a long series of characters. This is where you can receive Electroneum payments from mining, or from other people via various exchanges, wallets or mobile apps. It's ok to post this publicly because it's a "deposit only" address.
You'll also use this address for both of the mining apps discussed below.
---
METHOD 1: ELECTRONEUM MINER FOR YOUR CPU
Want to get your feet wet with a promising crypto coin and avoid hassling with text-based config files? Start here!
*If you want to maximize your hashrate and earnings mining with both your CPU and your GPU, jump to Page 2.
Electroneum Ltd developed a piece of Windows software for beginners, allowing you to install it, fill in a few fields and start mining with your CPU. Compared to standard mining applications it's incredibly user-friendly and has a graphical interface. The drawback is that it's not nearly as optimized as command-line software like Claymore or XMR-Stak.
What this means is that while it's a snap to get up and running, you won't be extracting the full mining potential of your CPU. You'll be reducing your hash-per-watt efficiency and not reaping the maximum benefits of your hardware. Like NiceHash, this is the easy button. A gateway to further exploration if you will.
Step 1: Download Electroneum Pool Miner from here and save it to your preferred location. I normally choose my Desktop. On a related note, my Desktop is a cluttered mess!
Step 2: Install the software. Just click the various "Yes" and "I agree" prompts, then launch it from the Desktop shortcut that was created.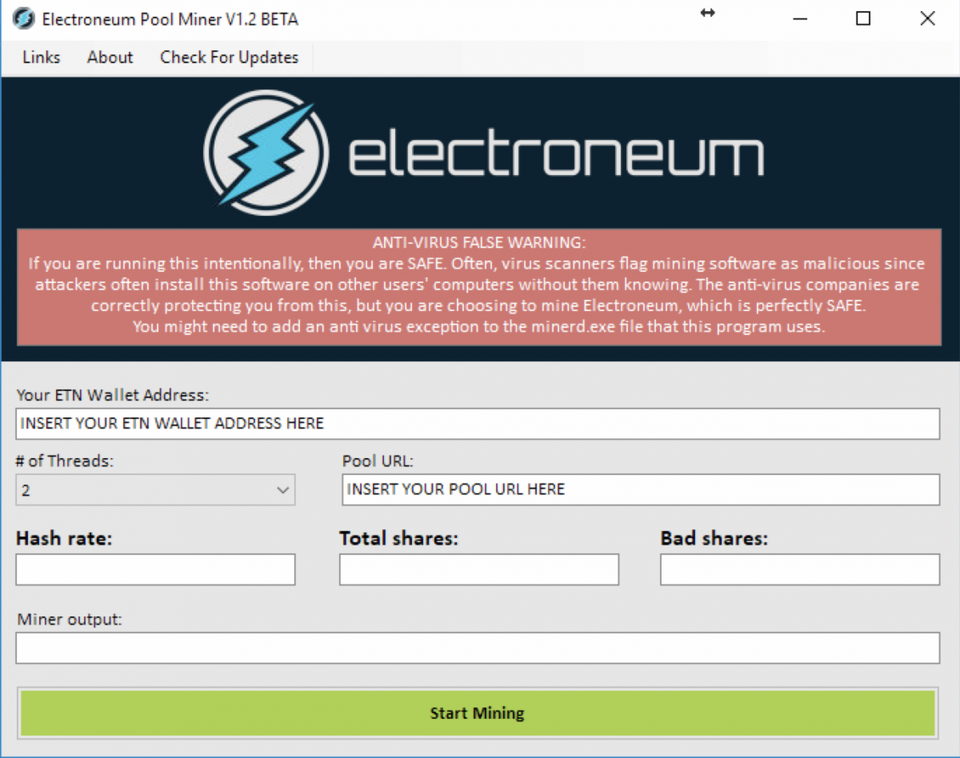 Filling in 2 fields and choosing the # of CPU threads is all it takes to get mining. ELECTRONEUM LTD.
QUICK SIDENOTE: Mining isn't actually the act of getting crypto coins; the coins are the reward. In simplistic terms, mining is the process of verifying a coin's transactions on the network which are broken up into "blocks." Sending or receiving cryptocurrency requires multiple verifications since these are permanent and cannot be reversed. A pool is a collection of miners pooling their resources (e.g. their compute power) to equally split the rewards -- in our case Electroneum coins -- for solving these blocks. Pools are necessary once a coin increases in popularity. They benefit smaller or hobbyist miners who don't have the insane hardware horsepower to do it solo.
Step 3: Let's fill in some information! To get up and running, the Electroneum Pool Miner will need your ETN wallet address and the URL of a Pool to mine to. Go back to your Electroneum wallet and copy the address, pasting it in the first box.
Step 4: Now visit this list of supported pools and choose one. This step may feel overwhelming as a ton of pools are listed. Follow these guidelines to determine which one you should choose:
Your pool should have a 1% or lower fee (a fee is what the pool takes for its existence/maintenance/operation costs before paying out to you).
Your pool should have some kind of support presence. I really appreciate when they have Discord or Telegram channels.
Your pool should be located in the same region as you.
We'll use Easyhash.io for this example. You can find all the connection information for Easyhash right here.

Choosing your Pool & Address EASYHASH.IO
I'll assume you have a standard midrange CPU as opposed to something like Threadripper. It's ok if you're not sure because the pool should adapt. So let's choose Port 3630. This is how you'll enter the Pool URL into the Electroneum mining software: stratum+tcp://etn.easyhash.io:3630
Step 5: Choose the number of threads to mine with. The software actually wants the number of cores your CPU has. My ASUS ROG laptop uses an Intel Core i7-7700HQ which has 4 cores, so I'll enter 4. If you're not sure, hit CTRL+ALT+DEL on your keyboard, and click "Activity Manager." Then click the Performance tab and look toward the bottom of this screen: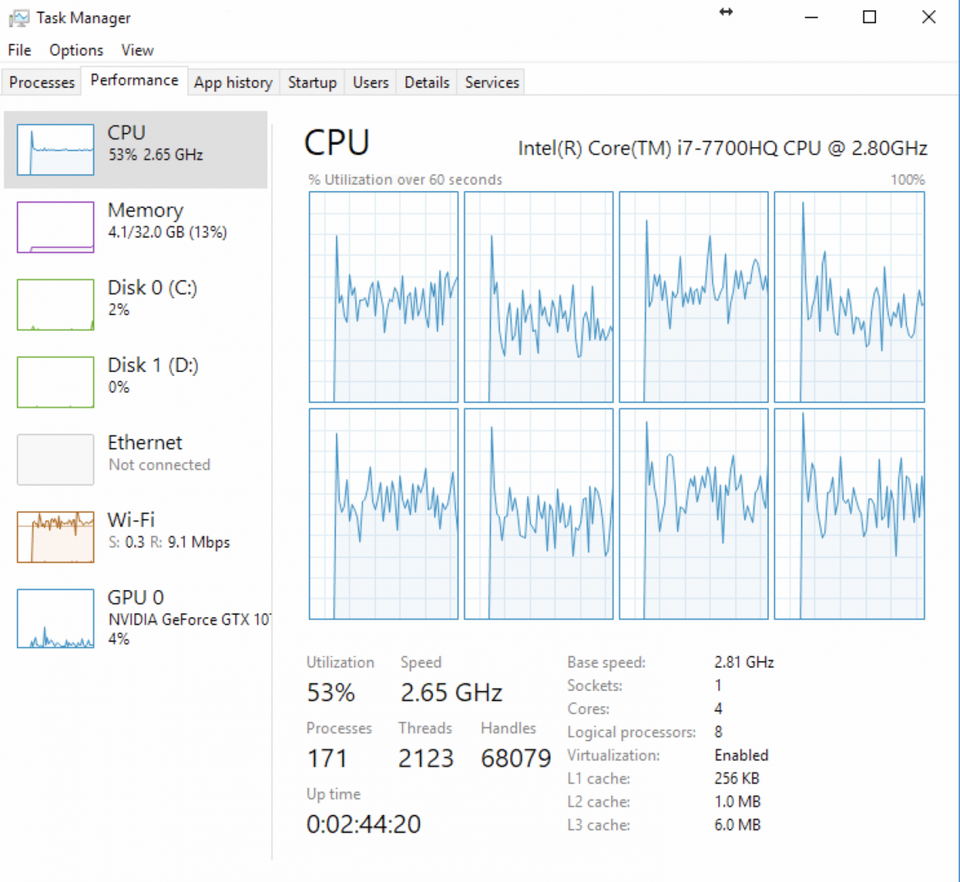 CTRL-ALT-DEL, Activity manager, then "Performance" will show you the # of cores your CPU has JASON EVANGELHO
Step 6: Start Mining! If all goes well, you should see some activity like hashrate and accepted shares in the "Miner output" box.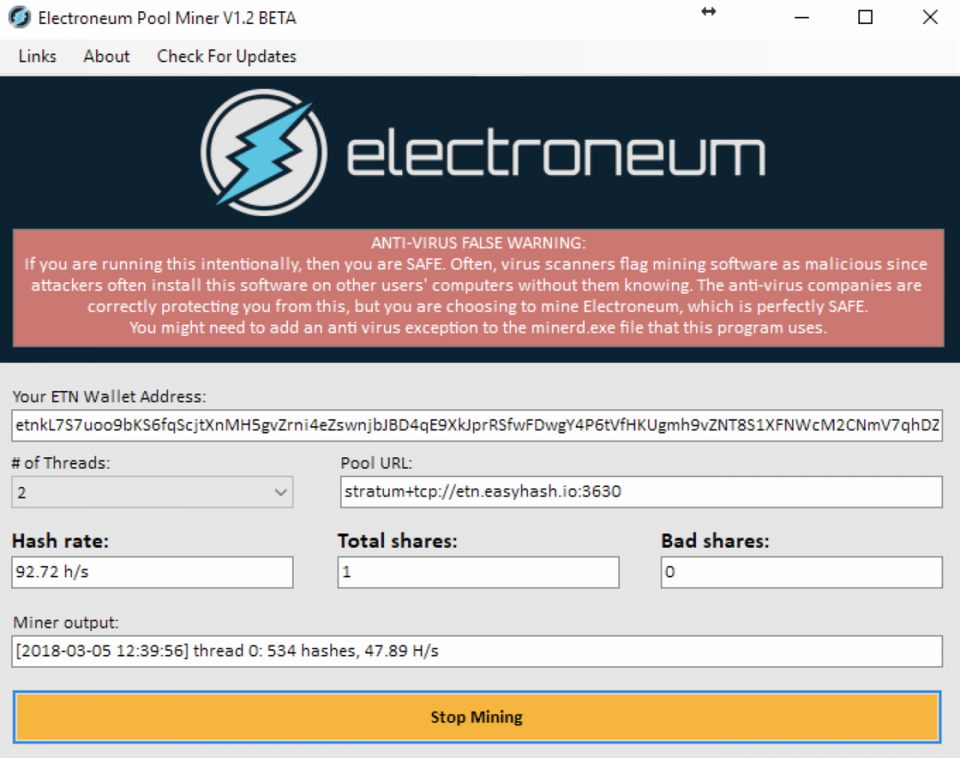 An Intel Core i7-7700HQ happily hashing away ELECTRONEUM LTD.
Step 7: Monitor your progress. Within minutes of submitting a share, you can track your hashrate, estimated earnings, and currently status by clicking the "My Stats" tab at the top of the Easyhash Electroneum page. Alternately, you use this URL format: https://easyhash.io/electroneum/mystats/YOURWALLETADDRESS
Here's what that screen looks like: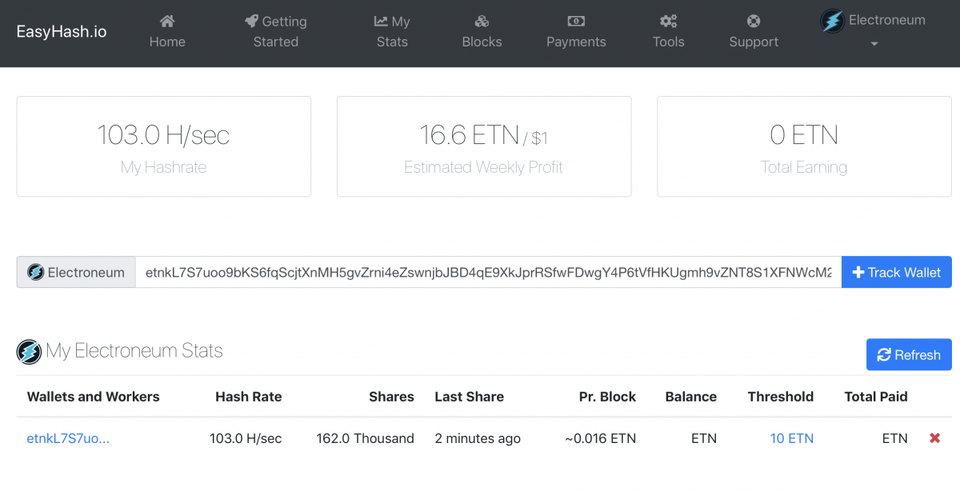 Easyhash monitor for Electroneum EASYHASH.IO
Be patient as results are sometimes delayed by several minutes. After you mine 10 ETN it will be automatically deposited into your Electroneum wallet. You'll also be able to see your estimated weekly $USD earnings based on the coin's current value -- which hopefully should continue to ramp up as Electroneum gains mindshare and mainstream adoption!
METHOD 2 (ADVANCED): XMR-STAK FOR CPU + GPU MINING
(Continued from Page 1)
XMR-Stak is what is running behind the scenes when you use your CPU on Nicehash, which I covered in my guide to mining with AMD's Ryzen Threadripper. It's very well optimized, and the version I'll be showing you today can simultaneously mine with your CPU, AMD Radeon and/or GeForce cards. It also runs across MacOS, Windows and Linux. The drawback is that it's a command-line interface, but once you tinker with it a few times you'll become comfortable using it.
In my experience it's the best software for mining the Cryptonight algorithm, which is what Electroneum is based on. However, it's not perfect and things can go wrong. If you get unexplained errors or the program isn't working as it should, try consulting the CONFIG, CPU, and NVIDIA or AMD text files contained within the program's folder. These represent settings for your components. They contain pretty good explanations of the editable configuration options within those text files. Hopefully you won't need them as the software is adept at auto-configuring your unique hardware.
Step 1: Download XMR-Stak-win64. Browse to https://github.com/fireice-uk/xmr-stak/releases and download the zip file to the location of your choice. For this example we'll use the Desktop. Once complete, just right click the folder and choose "Extract All."
Here's what you should have in the resulting xmr-stak-win64 folder:

The XMR-Stak-Win64 folder JASON EVANGELHO
(Tip: If you don't want to mine with your GPUs, simply delete the cuda-backend and opencl-backend files which enable support for Nvidia and AMD respectively.)
Step 2: Gather your info! One thing I love about XMR-Stak is that instead of editing a configuration file in notepad, the interface just asks you a series of questions. So let's round up all the info you'll need first.

It's command line, but a super simple setup process JASON EVANGELHO
Currency: Monero (you're not mining Monero, but that's the correct answer since it supports the same algorithm)
Pool address: We'll use the same pool as Method 1, but a different port since we're also using our GPU. So that will be etn.easyhash.io:3631
Username: this is your Electroneum wallet address. Head back to my.electroneum.com and copy/paste that here.
Password: leave this empty and hit enter.
For the remaining questions, type "n" for No.
Advanced tip: Perhaps you want to mine Electroneum on multiple computers? To track detailed performance for each machine you can add a "Worker" name to the end of your Electroneum wallet address. For example: "YourWalletAddress+MyRig" (without the quotes). This method applies to most any coin you decide to mine with XMR-Stak or other similar miners, but the format varies by pool, so check the "Getting Started" or "Help" sections of the pool you choose first.
Step 3: You're mining Electroneum! You'll see the software log you into your pool, and perhaps throw a warning about hardware being disabled. No worries there -- if you don't have an AMD Radeon graphics card, for example, it will just inform you that it's disabled because it can't find a driver.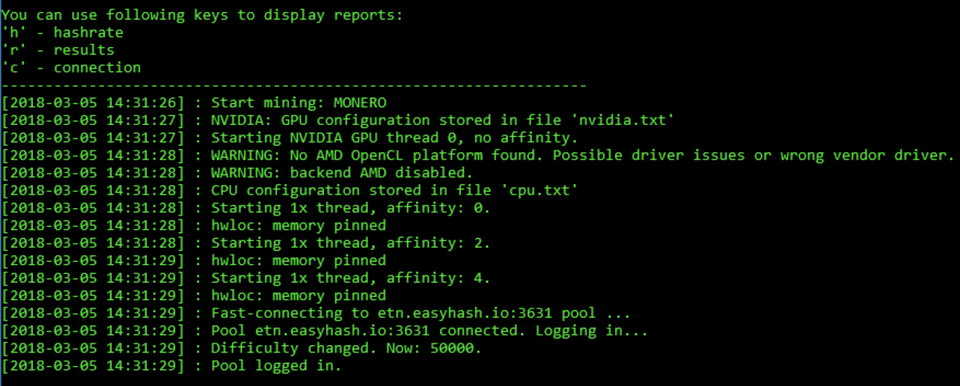 XMR Stak mining Electroneum JASON EVANGELHO
You can also input a couple commands in the command window to check on your pool results (r), connection (c) and hashrates for CPU and GPU (h).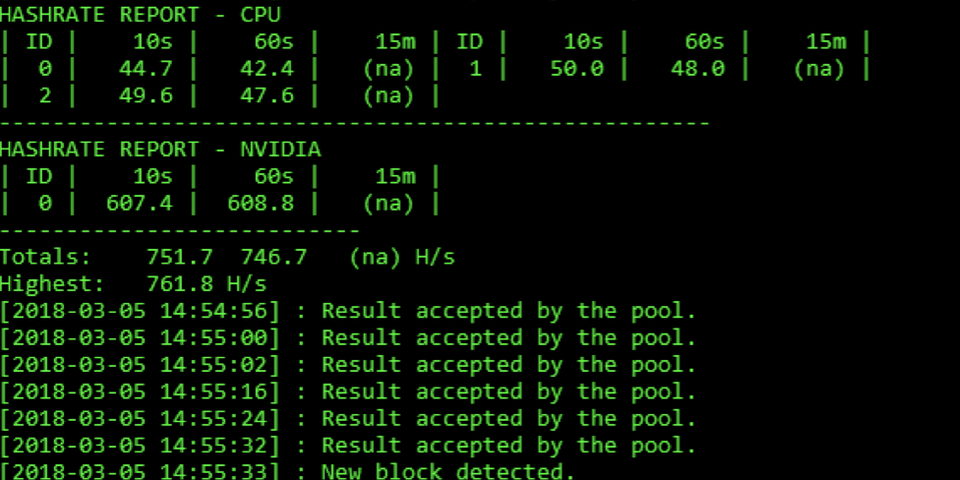 Hashrate Reports and pool details on XMR-Stak JASON EVANGELHO
Step 4: Monitor your progress. (Forgive me, I'll copy and paste from Method 1!) Within minutes of submitting a share, you can track your hashrate, estimated earnings, and currently status by clicking the "My Stats" tab at the top of the Easyhash Electroneum page. Alternately, you use this URL format: https://easyhash.io/electroneum/mystats/YOURWALLETADDRESS
Here's what that screen looks like:

This is my predicted earnings for my GTX 1070 and Intel Core-i7 machine. EASYHASH
Be patient as results are sometimes delayed by several minutes. After you mine 10 ETN it will be automatically deposited into your Electroneum wallet. You'll also be able to see your estimated weekly $USD earnings based on the coin's current value -- which hopefully should continue to ramp up as Electroneum gains mindshare and mainstream adoption!
---
This is my first in-depth guide for mining actual crypto coins instead of merely loaning your PC's hashing power for something like NiceHash. I hope it benefits you, but if you feel I've missed something or have suggestions for improving it, please reach out to me via the social media links below. Anything else you want to see a guide on? Let me know, and happy mining!
---
Follow me on Twitter. Check out my website. 
I've covered the PC gaming and tech industry for more than a decade and am proud to be one of the first 30 podcasters in the world. In addition to covering the exciting world of desktop Linux and ​ gaming, you can listen to my show "Linux For Everyone" on your favorite podcast player or watch the channel on YouTube.