HACKERNOON|Electroneum Smartphone Technology for Mining and Exchanging Cryptocurrencies
14 February 2018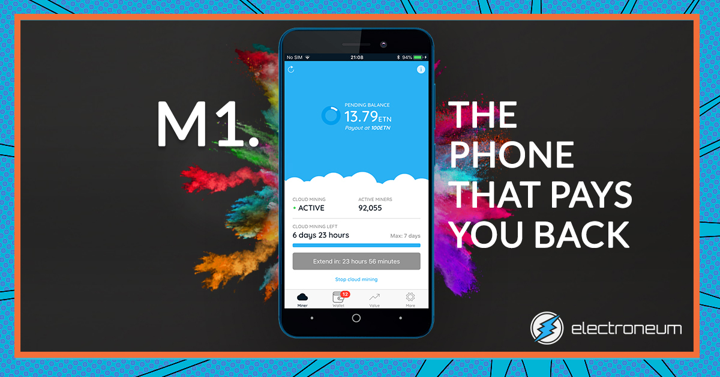 By William Thrill / Published by HACKERnoon
What is Elecroneum
Electroneum is a complementary cryptocurrency developed with the goal of allowing anyone, regardless of technical knowledge, access to the features of a digital currency. The technology aims to bring the mining, as well as the buying and selling process of cryptocurrencies, all into to the smartphone through a user-friendly app that anyone can use.
Most crypto currencies are mined used specialist equipment, Electroneum however can be mined using a unique, yet simple app that take just minutes to install before it gets to work.
Unlike Bitcoins, which its finite supply drives up the value of a single coin so that real world transactions for small amounts of money convert values into numbers with many digits after the decimal point, Electroneum's blockchain has 21 billion coins. This will move the decimal place forward so that the amounts will match the two decimal place system most currencies currently use.
Making amounts easier to calculate mentally should aid the adoption of the currency as transactions are easier to perform and more akin to real world situations.
In order to make this technology available to the wider public, Electroneum deliberately avoided using a blockchain that can be mined with ASICs, the super powerful circuits found in most modern Bitcoin mining rig, and instead, created a blockchain that can be mined using the power of a smart phone CPU, thereby enable the average person to get involved.
Electroneum's easy to access cryptocurrency hopes to appeal to a large number of users due to its user-friendly approach to mining. Users who could benefit from using Electroneum include:
Long-term holders e.g. those who wish to buy and hold the currency to gain any potential future value.
Crypto enthusiasts wish to be part of the development in the next stage of the digital currency movement.
How Electroneum Works
With the perceived practicality of the new crypto, the company has long term goals that begins by integrating APIs with virtual good sellers to begin accepting Electroneum, launching a global social media campaign and developing the Electroneum Virtual Currency Exchange.
The accompanying Electroneum app will be designed in a similar way to private messaging apps such as What's App, Line, WeChat, and will make it easy for the users to send and receive Electroneum simply by knowing someone's phone number. In order to further aid global adoption, the app with launch in multiple languages including Standard Chinese, Hindi, Portuguese, Arabic, Russian, Japanese, German, Indonesian, Spanish, French and Italian.
The startup quickly plans to move into the gaming industry — a natural progression as much of its user base will be familiar with gaming — by collaborating with top developers of consoles such as the Xbox and PlayStation, to create the world's first games console mining software. In doing so Electroneum can then be mined by the 620+ million consoles when they are not in use.
Following the successful implementation of the app and console integration, Electroneum can further penetrate the market by creating GUI based wallets and mining software for both Windows and Mac.
Next the company aims to make the coin even more viable for everyday use by integrating popular online voucher app such as Groupon, TravelZoo, and Wowcher, as well as ecommerce sites like Amazon and Ali Baba.
As Electroneum continues to set up partnerships and JV's, it will also attempt to partner with Internet giants such as Google and Facebook. This will give users further opportunity to mine coins as they surf the web or catch up on their social media network feeds.
Through such partnerships Electroneum not only has the ability to allow gamers to mine at time their machines would normal by in standby mode, the technology could also allow gamers, playing Minecraft for example, to actually mine coins whilst playing.
In doing so the player is able to monetize his/hers in-play virtual currency into cryptos accepted in the real world. At the same time the gaming company develops and entry, exit based strategy to monetize by charging a commission when player being, or leave a game.
With over 2.2. billion gamers in the world, marketing Electroneum as the Internet currency aims to build a brand that becomes as regularly accepted as PayPal. It also identifies the opportunity to provide these services to the 10's of millions of people who currently do not own a bank account, but do own a smartphone.
Valuable Information
Coin Name : Electroneum (ETN)
Total Supply : 5,195,262,064 ETN
Circulating Supply : 4,997,507,466 ETN
Market Cap : $464,703,227 USD
Ico Price : 1 ETN = 0.0100 USD
Staff/Team
Name : Richard Ells
Title : Co-founder
LinkedIn : https://www.linkedin.com/in/richard-ells-8b0615b/